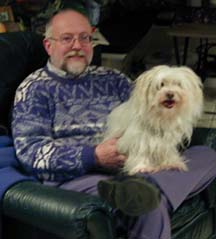 Biography & Photographs

I studied at The University of Michigan School of Music under Nelson Hauenstein and Michael Stoune, graduating in 1972. I then embarked on a career in music publishing and began writing the Christian songs for which I am best known. My songs

Alleluia No. 1

and

The Light of Christ

can be found in the hymnals of the Episcopal, Lutheran, Methodist, and Roman Catholic Churches.


In Michigan, I was the principal flutist with Dexter Community Orchestra. I served as principal flutist with Ann Arbor Civic Band from c. 2001 to 2006. I have played in musical theatre productions with Croswell Opera House (Adrian, Michigan); Chelsea Area Players; Tecumseh Youth Theatre; Salina Area Players; Ann Arbor Comic Opera Guild; EMU Theatre Department; Ave Maria College; and Southgate Community Players. In 2000, I was the flute soloist performing Peter Schickele's

Concerto for Flute and Orchestra

at the Ann Arbor Summer Festival.

In 2004 and 2005, I performed

The Breath of the Spirit

- a new work for two readers, flute and organ - in New York City; Paris, France; in Lisbon, Portugal. I have since performed it in Ann Arbor, Michigan, and Sarasota, Florida.
I have many years of teaching experience with beginners, intermediate, advanced, and adult students. I moved to Tennessee in November, 2008.


That's Tommy, sitting on my lap. He is a Havanese, and he is the best dog who ever lived.



October, 2004, at L'Eglise Saint-Augustin, in Paris, where


Duo Pneuma

performed

The Breath of the Spirit

.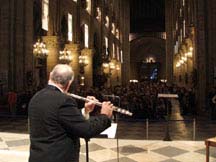 Performing in the Cathedrale Notre-Dame de Paris.